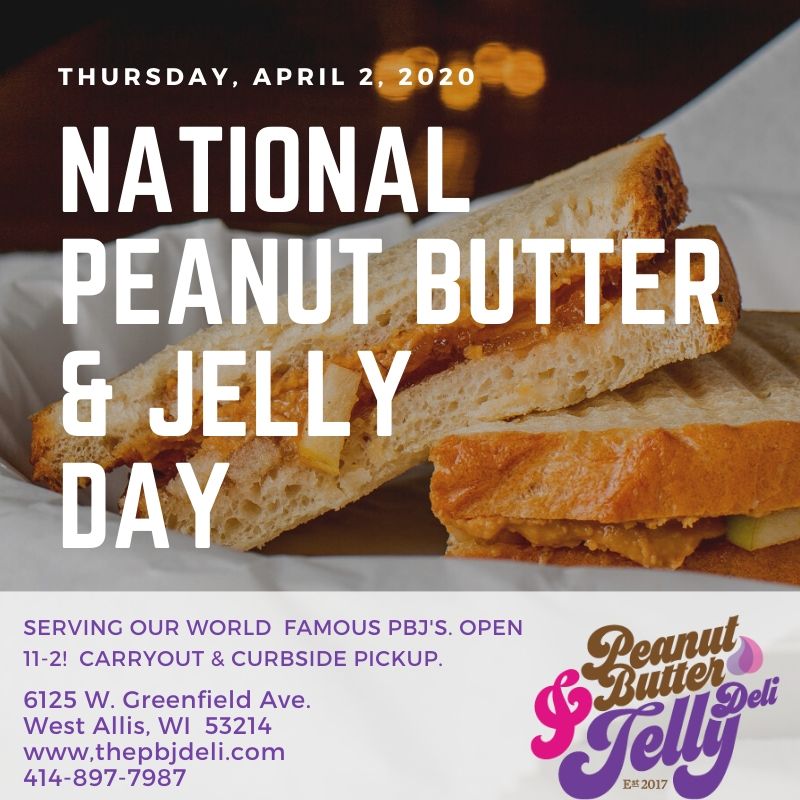 Day TWO of the Local Business Spotlight and I want to shine it brightly today on my amazing downstairs neighbors from the studio: The local West Allis LEGEND, the Peanut Butter & Jelly Deli.
Tomorrow (April 2nd, 2020) is National Peanut Butter and Jelly day – and they are open from 11-2 for curbside pickup to help us ALL celebrate in style!
Did you know:
1. They are the world's largest Peanut Butter & Jelly shop!
2. They grind their OWN nut butters in house daily, y'all. That includes: natural peanut butter, cashew butter, almond butter, honey-roasted peanut butter and the ever-addicting *dark chocolate* peanut butter!
3. They have the most incredible variety of jams, jellies and spreads made with locally sourced ingredients. My favorites are Pear Apple Chai Jam, the Orange Cherry Marmalade Jam, and the Reduced sugar Peach and Strawberry spreads!
4. They ALSO have sweet hot jams like cranberry jalapeno and hot peach pepper.
5. Not to mention their incredible salsas, like my favorite, the Smoky Chipotle salsa. OMG it's amazing.
6. They also have soups daily! They rotate so be sure to ask.
7. You can make your OWN peanut butter and jelly sandwich creation if you want to creatively stray from the already amazing options on the menu. They have all kinds of awesome ingredients like nutella, marshmallow fluff, pickles, sliced fruit, cream cheese, jalapenos, caramel sauce, you name it!
8. They also have PARTY PACKS available if you want to buy lunch for 6, 12 or 24 people.
You guys.
I can't say enough about how amazing this deli is, and how wonderful the owner and the employees are. These people are the real deal, and they're working hard to stay afloat just like so many small businesses right now.
REMEMBER! If you spend $250 with local restaurants, cafes, delis or small face-to-face businesses for future use, and send me those receipts I will send you a $500 gift voucher good toward a full portrait session experience in my studio. (Details & Rules HERE)
This absolutely includes your orders from the amazing PBJ Deli. ♥