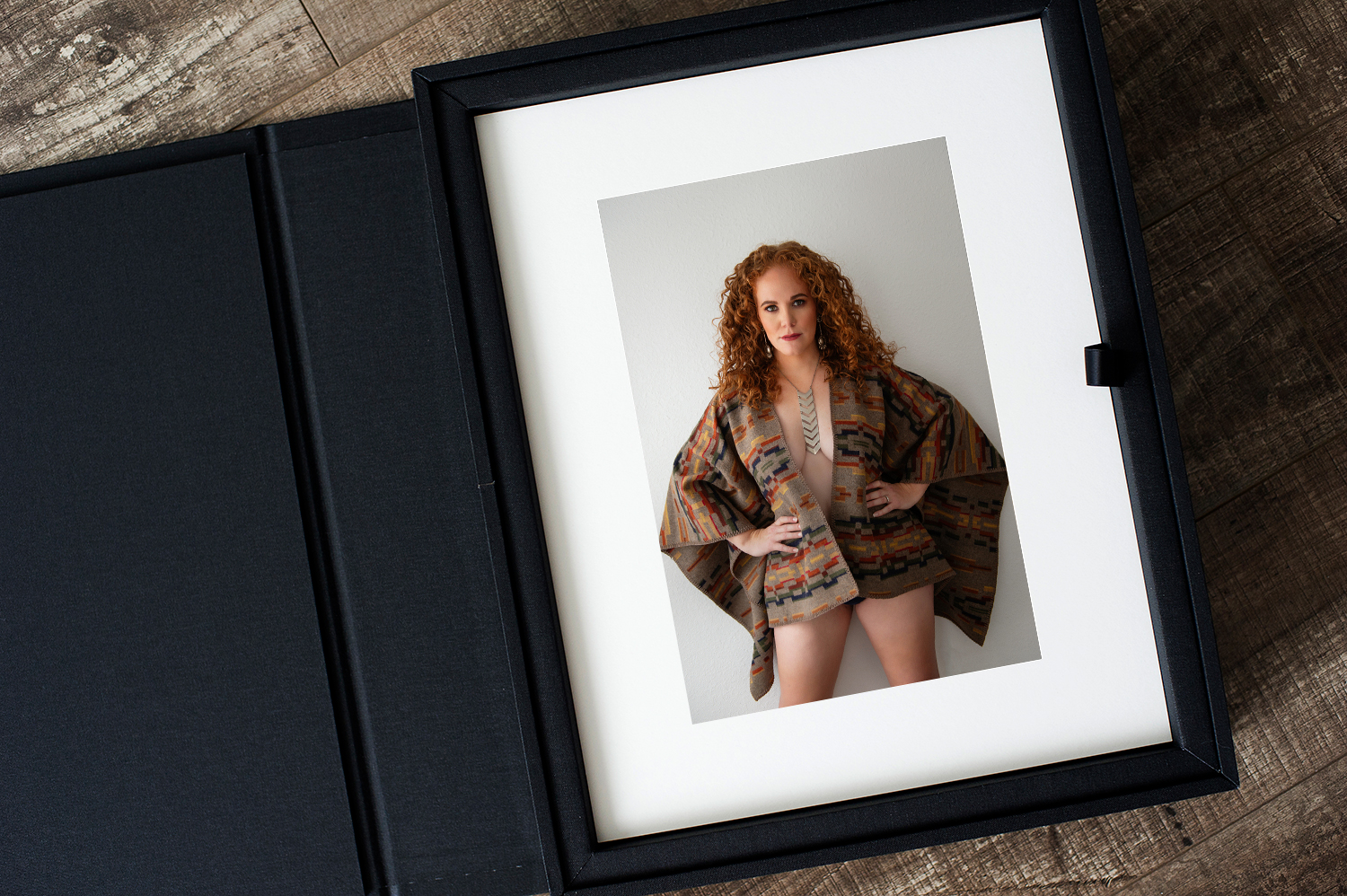 Jenn came in for a hybrid boudoir/portrait experience. I call these "clothing optional." I'm so excited she's given permission to share these images because I love them SO much. She's such a bright fire with her incredible red hair and her energy – she's also one of the kindest and most generous people I've ever met.
And now a bit from her on the experience of overcoming fear and negative self-talk, to jump in with both feet, with trust, to be photographed in such an intimate and vulnerable way:
"One of the first things I told Jennifer was that I use a lot of words to describe myself but oftentimes "sexy" isn't one of them. It's a side of myself my husband has lovingly encouraged me to tap into and a side that is the most challenging to access. With all the complexities of being a woman about to turn 30 swirling around in my head, and having spent a good amount of time in adulthood putting in the work to become a better version of myself, I decided to seize

this moment to celebrate everything I am.
The chance to do something SO outside of the box was exciting and terrifying all at once. After our initial consultation, I felt nothing but comfort and ease in working with Jennifer. She is so personable, down-to-earth, and professional that I no longer felt uneasy about being photographed in limited to no clothing.

I had no doubts in her but the doubts in myself started creeping in shortly before my shoot:

– "I don't know enough about styling my curls, they won't look good"

– "I'm heavier than I want to be, I should lose some weight"

– "My skin is so uneven and full of breakouts, it won't photograph well"

– "I'm a lot taller and probably more awkward than most women, my poses will look funny"

And the worst of all, that combined all my insecurities in one:

– "Women who look like me don't get boudoir sessions done"

Even just typing that now stings a bit. It stings for a younger version of myself that was so insecure in how she looked, it stings for a future version of myself that may look back on this time longingly, it stings for all women trying to catch their footing on their look – it especially stings for all communities of womxn who are rarely captured in any form of media.

It took some time for those thoughts to move through me but I'm so glad I did not give them too

much power and went for the scheduled shoot.

The day of the photoshoot was such a wonderful experience! I did style my own curls to be the fierce mane that they are, Emily did a face of flawless make-up that is 100% fit for the big screen, and Jennifer did everything to make sure I was comfortable (right down to cranking the heat in the studio so I wouldn't be cold while discounting her own comfort). I looked and felt like a goddess.

Jennifer has such a unique ability to ensure complete comfort and control in her clients while also making the session feel like you are hanging out with a best girl friend! There are laughs between the well thought out instructions, advice on what jewelry to pair with the clothing selections, and discussions about bands popping up on the boudoir-curated playlist; all while Jennifer maintains an impeccable level of professionalism and expertise in her art.

The session was so fun and so empowering! Real talk – what other opportunities do you have in life to actually BE a MODEL?? It was a blast.

That excitement carried well into the days afterwards as I waited for the reveal. In reality, the stress of making such a financial commitment was weighing on me but I reminded myself that the experience and, more importantly, how good I felt about myself are priceless.

Finally the big day to see the photos was here! I had a stomach full of butterflies as we started the slideshow.

My overwhelming feeling was happiness.

Thrilled I had done something so unique JUST FOR ME, certainly ecstatic that they turned out well (though I had no doubt in my mind with Jennifer being the lens), and especially excited to have something to look back on to remind myself of this feeling.
As women we are often told that we "deserve to feel beautiful" and that is without a doubt absolutely true. However, we sometimes are not given the space, opportunity, and experience to identify what that truly means for ourselves. Having the chance to strip away (pun intended) all the insecurities, concerns, day to day stresses, (clothing), and get down to the woman, unapologetically herself; is a gift we should all give ourselves." ~Jenn