OCTOBER MODEL CALL:
JENNIFER BRINDLEY PORTRAIT is seeking WOMEN ages 35+ for the chance to win a MODEL CALL special offer:
We are creating a promotional video and are looking for a REAL WOMAN to be our "model" for this production.
​​
MODEL CALL REQUIREMENTS:
​Ages 35 plus
No modeling experience is necessary (no experience preferred)
You must not have been selected for any past model call with JBP and must not have been photographed by JBP in the last 3 years
You must sign a model release
Consent to a Before & After photograph
Consent to behind the scenes and video filming of your consultation, shoot and reveal
Must be able to meet for an in person consultation within the next 10 days
Must be able to shoot on MONDAY OCTOBER 17th or WEDNESDAY OCTOBER 26th from 10:00 am – 2:30 pm
​​
Parameters for selection:
We are looking for women over 35 who have dreamed of having a portrait session with me; women who want to feel empowered and share their stories with other women. Most importantly, we want women who are ready to CELEBRATE their achievements and document this time in their lives with photographs.
​
​
What do you get if you are SELECTED for this project?
As our thanks for modeling for this project, we would like to offer you a:
$1110 Gift Voucher!
Your Gift Voucher can be applied to your SESSION FEE plus the purchase of photographs!
Session fee $368.54   |      Collections begin at $1584   |      A la carte photographs begin at $369.60
Your Session will include:
-Pre-Session Meet & Greet to discuss how you dream of being photographed (the consultation)
-Professional hair & makeup with take-home lashes (plan a night out, you will look amazing!)
-Styling courtesy of our wardrobe with over 500 garments sizes 00-22
-Use of studio accessories & jewelry, jackets, hats and scarves
-Live styling during the photo shoot
-Private, beautiful studio location
-Full retouching included
-1-2 Hour artfully directed photo shoot with Jennifer Brindley with up to 10 looks
-Reveal and Ordering Appointment
YOU MUST FILL OUT THE APPLICATION BELOW AND INCLUDE AN IMAGE TO BE CONSIDERED.
~KEEP SCROLLING FOR MORE INFORMATION AND TO FILL OUT THE APPLICATION~

​

FAQ

​
1.  When will you notify me if I am selected?
We will be reaching out to everyone within 1 week of receiving your application.
2.  What am I responsible for paying up front?
Absolutely nothing.  You only buy what you love and as our thanks we are giving you a
$1110 gift voucher which will cover you for your session fee plus another $741.46 towards the
purchase of photographs.
3.  When will the session take place?
Either Monday October 17th, or Wednesday October 26th
4.  What if I'm not chosen for the project?
If you are NOT selected for this very limited opportunity, you will receive a special THANK YOU gift voucher of $200 which will be good toward your very own private photo shoot booked for any available date before the end of 2022.

Model Call Application
Please fill out this entire form giving as many details as possible!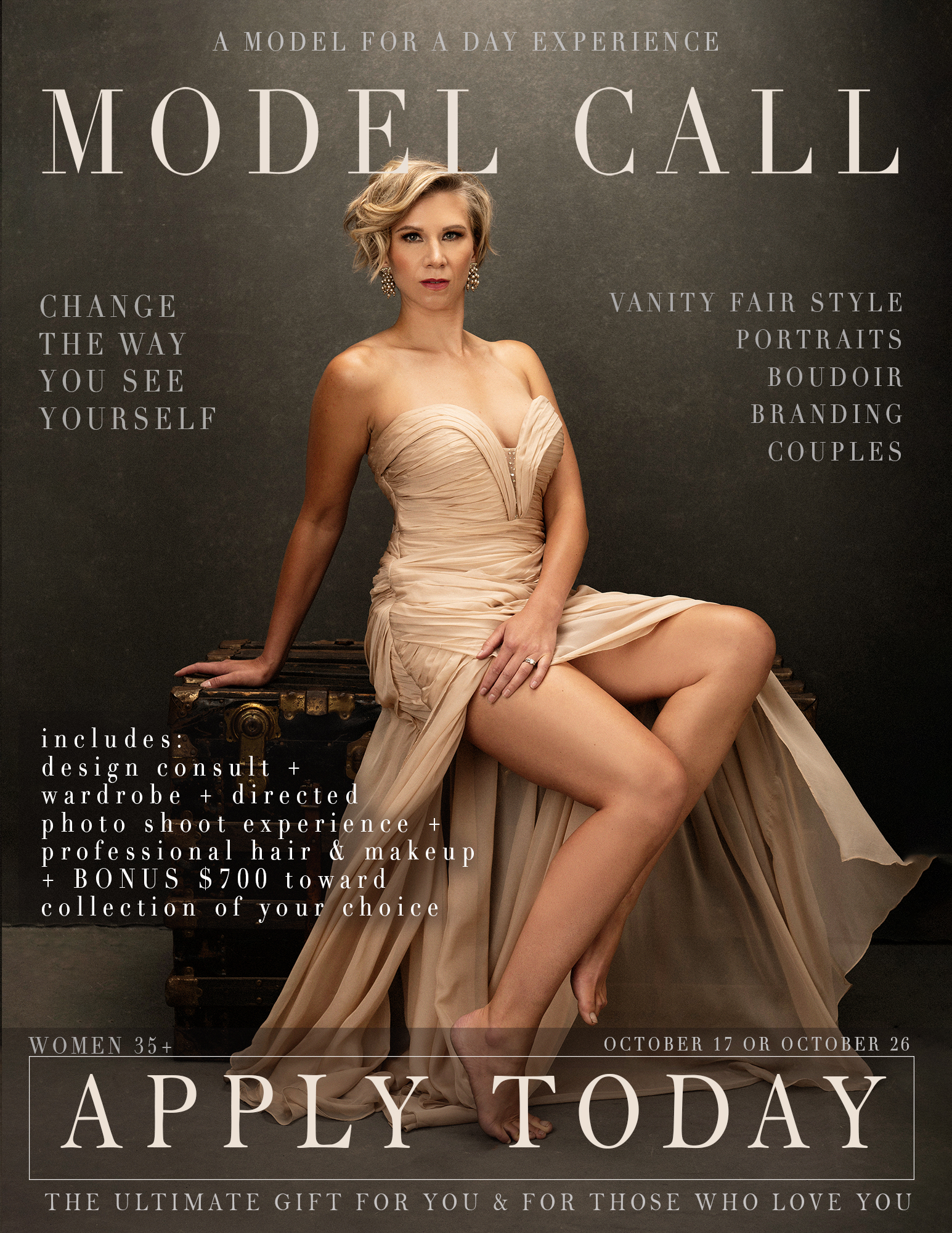 Consultation Hours:  Tues & Fri. 12pm, 3pm and 5:30pm
Session Times:  M, W, Th 10am
Located at   6127A W Greenfield Ave West Allis, WI
by appointment only